Learn more about this service and request your appointment below!
More About Spark™ Clear Aligners
Spark Clear Aligners are an effective alternative to traditional braces that use a system of clear, removable trays to straighten teeth. Each aligner is custom-made to fit over your teeth and designed to gradually move teeth into their proper position.
From mild crowing to complex malocclusion, Spark aligners can give you the smile you've always wanted! Spark can correct:
What makes Spark Clear Aligners different?
Made from TruGEN™, the latest generation of aligner material, Spark Clear Aligners are designed to deliver a higher sustained force retention for maximum efficiency. Because Spark is created with polished, scalloped edges, it is designed to provide a more comfortable treatment experience. Additionally, you can feel more confident during treatment, as Spark aligners are designed to be clearer and have minimal aligner stains compared to the leading aligner material.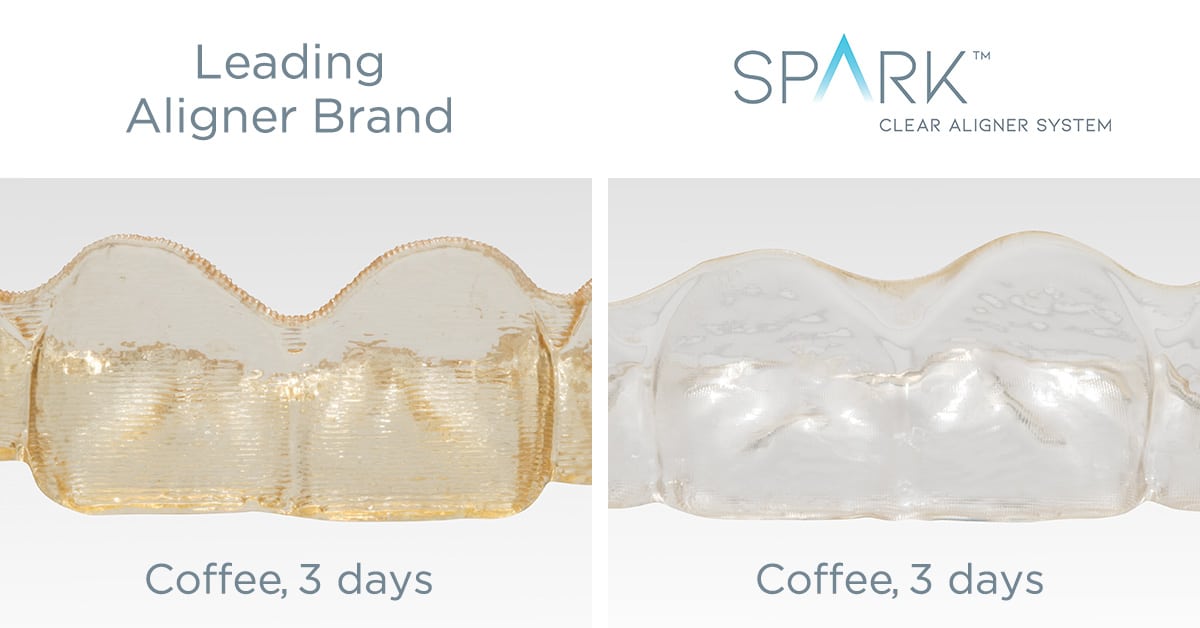 Each Spark aligner is created a little different, so that each time you switch aligners, your teeth move a little more.
For effective and efficient treatment and the best smile results, we recommend wearing your Spark aligners for 22 hours a day during the one to two-week period of treatment with each aligner. Ideally, the only time you should take your aligners out is for eating and brushing.
Our practice is proud to accept most major credit cards and insurance plans. Our friendly team will discuss the cost of your treatment and each available payment plan option, so that you can make the best choice for you and your smile.
We TRULY care.
In order to provide impact beyond smiles, we consider our patients as being part of our "practice family." We share your concerns and we're going to celebrate your successes. Your time in our care will be legendary, and we will relish the opportunity to be your biggest fans.
Leading-Edge Technology.
Our orthodontic offices are the most technologically advanced in the Frederick & Middletown areas. We use Intraoral scanners that eliminate impressions, we have our very own 3D printers that allow us to provide in-house aligners, we offer Damon™ Smile, and more!
Personal Care Providers.
Our personal care provider system means once you start treatment, you are assigned your very own personal assistant. As Dr. Robison guides you through treatment, your Personal Care Provider will provide valuable information about your progress and challenges.
We love hearing from our patients! Thank you to everyone who has taken the time to provide us with feedback. It means the world to us!
Just got my braces off in early May after nearly 2.5 yr treatment time and absolutely loved working with Melissa, Dr. Robison and team. Always willing to put up my with 1million questions per visit and answer all of them with a smile! Thank you! I love my new smile!
Dr Robison and team were/are amazing! They are super friendly, patient, and answered the million questions that I had. My daughter felt very comfortable with everyone, which is most important. You won't be disappointed if you see Robison orthodontics for your ortho needs!
Three members of our family have gotten braces/invisalign through Dr. Robison and his team. They have worked with our family for years with patience, kindness, warmth and total understanding of the different needs of three family members. I would highly recommend Dr. Robison's office to everyone!! We are definitely smiling!!